Return to Headlines
Jill Fagala named 2022-2023 UCPS School Nurse of the Year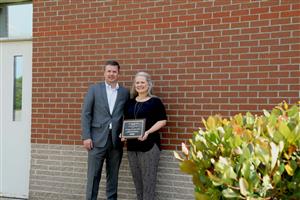 Jill Fagala, the school nurse at Unionville Elementary, was named the 2022-2023 UCPS School Nurse of the Year on May 11, which coincides with National Nurses Week. As she received the award amidst resounding applause and celebratory cheers, she conveyed her gratefulness for the recognition and for the support of the school community she serves.
"I've been at Unionville for more than 10 years now. It is a calling and something I am passionate about. This means so much. I've been nominated three times. I thought, 'It's such an honor to be nominated, but my goodness, this feels good," said Fagala. "We have so many great nurses in our school district and the other two finalists are incredible. Relationships are key because we spend a lot of time talking to students, families and staff. Parents have to trust that their children are being well taken care of. My favorite part of this job is the kids and those hugs, even on those days they aren't sick, need a band-aid or an ice pack."
Fagala's passion for school nursing stems from a community health rotation in nursing school, where she had her first experience with school nursing. She quickly realized that the same skills used in a hospital were being used in schools, and the role of a school nurse was much more than just handing out Band-Aids.
"We all know that school nurses wear many hats. They educate students and staff alike so we can take better care of ourselves and each other. What sets Jill apart is her how and why," said Dr. Sharyn VonCannon, Unionville Elementary principal. "She gives her undivided attention and has invested in creating relationships within the school and in the community. She understands, she, as a school nurse, impacts core instruction. Her goal is to keep students healthy, safe and in a good frame of mind so that the teacher can do their job when they are back in class."
Fagala's nursing journey shows her commitment to enhancing her skills and knowledge. From working in the fast-paced environment of an Obstetrician-Gynecologist to the controlled chaos of Cardiac Rehab and Day Surgery, she honed her skills in teamwork, communication, critical thinking, and keeping her cool under pressure. However, it was in 1997 that she found her true calling as a school nurse. Since then, her role has expanded to encompass a wide range of responsibilities, including monitoring, managing chronic illnesses, preparing for emergencies and assessing the behavioral health of her students.
"Through all the changes, one constant remains. The school nurse is a leader and is an important part of the education team, one who bridges the gap between health and education," said Fagala.
Fagala's expertise proved to be life-saving when a staff member suddenly collapsed due to cardiac arrest. Equipped with her CPR training, Fagala took charge and led the staff in successfully resuscitating the individual. This heroic act is just one example of Fagala's dedication to ensuring the health and well-being of those around her. This year, she made it her goal to teach hands-only CPR to every fifth grader during healthy heart week during their physical education class. Students were excited to learn how to give chest compressions to the beat of the Bee Gees' song "Stayin' Alive," a catchy tune that helped them remember the right rate. They were also trained to recognize the signs and symptoms of someone in distress and what to do until help arrives.
"Students left the class feeling a sense of confidence knowing what to do if someone suddenly collapses. They learned that one is never too young to save a life," said Fagala.
Rosetta Anderson from Monroe High School and Jeanne Baucom from Rock Rest Elementary were also finalists for School Nurse of the Year. All three finalists embody the qualities of a school nurse, including compassion, leadership and dedication to the health and well-being of students and staff.
"On behalf of our entire team, I thank all of our school nurses for all they do every single day, for their leadership in our schools and for going above and beyond for our families and students," said Superintendent Dr. Andrew Houlihan. "Our school district is deeply committed to them. We know having a dedicated nurse in every building is as essential as having a highly-effective teacher in every classroom. Congratulations to all the finalists, and a special congratulations to our School Nurse of the Year winner. Your dedication and expertise inspire us all, and we thank you for your invaluable service to our students, families and staff."
05/11/2023