Return to Headlines
East Elementary breaks ground on new school, paving the way for a brighter future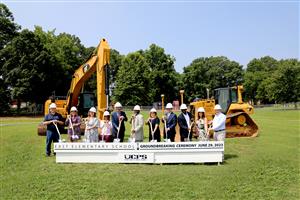 East Elementary stakeholders recently burst with excitement as they commemorated a significant milestone with a groundbreaking ceremony on Thursday, June 29. This momentous event, held at the school, marked the start of the construction phase for the long-awaited new building. Guests included board members, city and county officials, UCPS senior leaders, school administrators, students, partners and community members. Watch the recap.
With a 62 percent approval rate from voters in November, East Elementary is one of the two schools selected for construction under the 2022 School Bond. The current building of East Elementary has faithfully served the community for 70 years. The $39 million project will transform the school's educational landscape and usher in a new era.
During his remarks, Principal Denny Ferguson proudly described the school as a remarkable place because of its inhabitants and advocates. In his heartfelt recognition, he praised the exceptional students, committed staff, devoted parents and loyal supporters who have steadfastly upheld and strengthened the school community over time.
"We look forward to a brighter future. We are proud to be engaging students in vast opportunities in the health sciences through our partnership with Atrium Health and developing bilingual and bi-literate students in our dual immersion program," said Ferguson. "I see this new building as a symbol of respect for learning, excellence and community pride. We know that better networks, better resources and better infrastructures equal better outcomes for our students. We will leverage this mutual resource to make our community, partners and families proud."
Superintendent Dr. Andrew Houlihan thanked everyone involved in making the project a reality.
"This has been a long time coming. The new building will be a wonderful resource for our students and the community that aligns academically with what is already happening within the school. We'll also see larger and more flexible spaces with an open-source classroom feel," said Houlihan.
Raelani Jordan, a rising fourth grader, shared her thoughts about what the new school would mean to her and other students.
"Science and math are my favorite subjects. I'm looking forward to the new Health Sciences Academy room so I can learn more about how much water is in the oceans, rivers, streams and lakes," said Raelani. "It will also help me learn more about nutrition such as proteins and vegetables. Even though I'm not a part of the dual language immersion program, I know these students are excited and will be able to use the new classrooms to read, talk and write more in Spanish."
Representatives from the construction and architecture companies involved in the project, David Bellemy of LS3P Architects and Jon-Michael Broyles of Vannoy Construction spoke about the collaborative effort and expertise needed to bring the innovative design to life. They showcased a 3-D model that demonstrated a modern, usable space. Bellemy shared an interesting tidbit about the school's design: the building's shape resembles an eagle, perfectly complementing the school's logo.
Bellemy expressed his enthusiasm for the chance to educate and inspire students by sharing the knowledge and responsibilities of architects, engineers, and building contractors during their work on the site. Additionally, he talked about the unique partnership the school has to support the Health Sciences Academy.
"I've never seen a partnership like that at the elementary school level. It's exciting and unique to Union County and we want to tell everybody in the state that this is how it should be done. Getting that excitement in early is critical to keeping that excitement going," said Bellemy.
The new campus will bring state-of-the-art upgrades and features. Additional pre-kindergarten classrooms will support early childhood education programs. A flexible multi-purpose gymnasium will provide ample space for physical activities and community events, and the expanded dining area will create a welcoming atmosphere.
Dedicated collaboration areas in the facility will promote teamwork and innovation in education. Additional on-site parking will improve traffic flow and provide more safety for parents, staff and visitors.
As the ceremonial shovels broke ground, it marked a new beginning at East Elementary School—one defined by progress, innovation and boundless potential. The vision for a modern and dynamic educational institution is becoming a reality. East Elementary School's future looks brighter than ever.
The newly built campus is expected to open in the 2025-2026 school year, welcoming students into a world that empowers them to reach their full potential.
06/29/23