Return to Headlines
UCPS charts a green path with Sustainable Energy Academy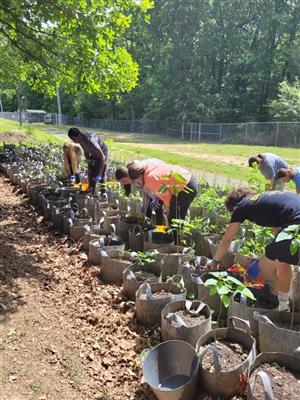 Union County Public Schools (UCPS) is charting a path toward a sustainable future by providing students with a unique opportunity to explore and engage in one of the fastest-growing industries in our state, region and nation. With a steadfast focus on cultivating eco-consciousness and innovation, the Sustainable Energy Academy, located within the Parkwood cluster of schools, is poised to equip the next generation with the tools to navigate a rapidly evolving world. The schools include Prospect Elementary, Western Union Elementary, Waxhaw Elementary, Parkwood Middle and Parkwood High.
A holistic approach to education
The academy will focus on learning about sustainable energy, conservation, and how our choices impact the planet. Students engage in practical activities that may include activities such as building solar-powered devices, conducting energy audits and designing sustainable solutions for their schools and communities. This approach makes learning engaging and memorable. It also demonstrates the tangible benefits of sustainable practices and viable career options.
Beginning in elementary school, students get hands-on experience in eco-friendly concepts, outdoor classrooms and student leadership. Middle school introduces topics like agriculture, natural resources and robotics. Once in high school, students can specialize in sustainable agriculture, engineering, or marketing. Teachers, district leaders and school heads contributed to curriculum development, which aligns with existing focuses.
For example, adding the academy to Prospect Elementary's curriculum enriches its multifaceted approach as a "Leader in Me" school. Beyond their commitment to nurturing academics and leadership, this academy brings a vital dimension to address global sustainability needs. This integration empowers future-forward leaders, well-equipped for academic and social success.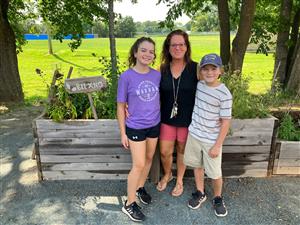 "In elementary, all students will be exposed to the academy. It will be a part of the specials rotations, which include art, music and physical education," said Dr. Kim Chinnis, Prospect Elementary principal. "The goal is also to incorporate sustainable energy into other subjects. Some discussions will be around solar energy, business leadership and energy technologies."
The collaborations among the schools will continue. Theresa Moats-Platt, a science and social studies teacher at Parkwood Middle, has already hosted some of the elementary school students so they could see their green initiative in action. In 2022, the school unveiled its outdoor learning lab featuring a butterfly and pollinator garden, a composting center and a solar-powered amphitheater to produce less waste and more sustainability.
"Being the middle school, we act as a bridge between elementary and high school. We aim to guide students towards career paths they're passionate about and that address real-world issues with impact," said Moats-Platt. "Our students will also be an example for the adults. We encourage the conversation to be inclusive, open-minded and for them to look at both sides of an issue. We want students coming up with ideas and inventions."
Power of early learning
It is essential to introduce sustainable energy concepts early for various reasons:
Foundation for lifelong habits: Early exposure to sustainable energy education lays the foundation for eco-conscious living. When students understand the consequences of their energy consumption choices, they are more likely to adopt energy-saving behaviors that can stay with them throughout their lives. It's a practice they can pass on to their families and community members.
Nurturing future change-makers: By instilling an appreciation for sustainable energy practices from a young age, the academy develops a generation of environmentally conscious citizens poised to make meaningful contributions towards a greener world. These students are likely to pursue careers in renewable energy, environmental science and policy-making, driving advancements in sustainable practices.


Critical thinking and problem-solving: Learning about sustainable energy requires critical thinking and problem-solving skills. Early exposure to these concepts enhances students' ability to analyze complex issues, evaluate alternative solutions, and make informed decisions—an invaluable skill set.


Community Engagement: The academy promotes sustainable living by engaging students in hands-on projects and encouraging community involvement. Students become ambassadors for environmentally friendly practices, inspiring their families and neighborhoods.


Global citizenship: The challenges of environmental shifts are not limited to geographic boundaries. Early education about sustainable energy empowers students to understand their role as global citizens and contributors to a healthier planet.
Exploring exciting career opportunities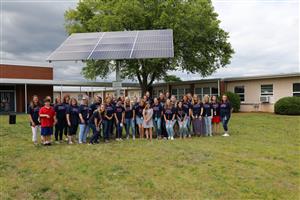 The academy will guide students to explore career paths, earn credentials and engage in internships and pre-apprenticeship programs. These opportunities enhance skills and provide a step to competitive advantages in job markets.
In the field of sustainable energy, there are many different types of jobs that students can consider. For example, some students might become engineers who work on designing and building things like solar panels or wind turbines. Others could become experts who help companies use energy more efficiently, which is like using less energy to do the same things. Some jobs involve managing projects that are good for the environment, like making sure buildings use energy wisely. There are also jobs where students can invent new technologies that help the planet. So, whether they're interested in technology, helping the environment, or finding better ways to use energy, there are lots of exciting options for students.
"Bringing this academy to the Parkwood cluster ties into everything we are doing as schools and as a school district," said Dr. Chinnis. "When you look at the UCPS Portrait of a Graduate, students will use those characteristics daily. When you think about being a resilient problem solver, students will be doing that daily, whether it's coming up with solutions to energy consumption and use or something else. They will have to think of other options. The level of communication and collaboration they will have with each other and other schools will be high."
Key partners
Union County Public Schools is thankful for the support of partnerships with Crossroads Ford, Union Power Cooperative, South Piedmont Community College, City of Monroe and Duke Energy.
08/23/2023