UCVirtual Student Honorees
UCVirtual Student of Summer Enrichment (8/10/17)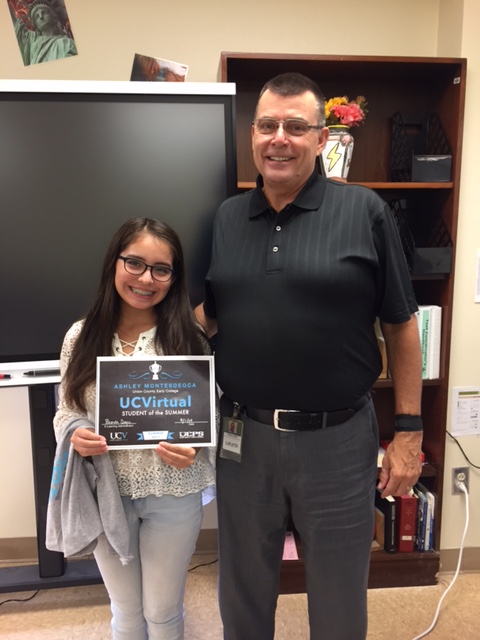 UCPS students were working hard to get ahead this summer! UCVirtual had almost 500 students enrolled in the Summer Enrichment Session offered from June 19th to August 10th. Students were taking elective courses, CTE courses and even EOC classes! Out of all these students, we want to recognize Ashley Montesdeoca for being #VirtuallyAwesome! She stood out as an exemplary student of excellence this summer!
Ashley is currently a sophomore student at Union County Early College. She was nominated by her Biology teacher, UCVirtual's Amanda Starnes. Mrs. Starnes stated, "This student's work was always on time and nearly perfect. She was the first person to turn in every assignment and was diligent in watching the presentations, understanding the material, and demonstrating her knowledge." Summer Enrichment operates at an accelerated pace. Students will put in about 3 hours of work a day in order to complete all the classes require. "I was impressed with the quality of her work, but also with how mature she was every time we interacted via text, phone, or email. For many assignments, especially the Honors Portfolio assignments, she went above and beyond, including outside information she researched for. Great student all around!"
UCVirtual is proud to recognize Ashley for all her hard work! Ashley received a certificate of recognition and a #VirtuallyAwesome t-shirt in front of her peers. UCPS students are always striving to be the best and Ashley is a wonderful example of how great our students are!




Please follow our Twitter account

@UCVirtualNC

to stay informed about our program, get important updates, and to help celebrate our students and teachers.