UCVirtual Student Honorees
UCVirtual Student of the Six Weeks (10/23/17)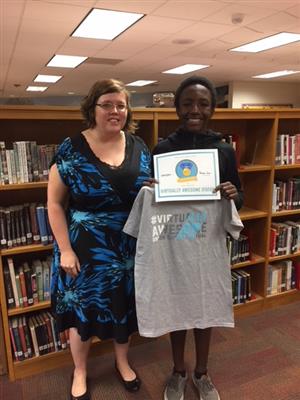 UCVirtual is proud to announce that Justin Jenkins, an 8th grader at Sun Valley Middle School, is the UCVirtual Student of the Six Weeks! Justin was nominated by his Honors Leadership Exploration teacher, Ms. Nicole Shroyer.
"Justin is an 8th grader in Leadership Honors. He is awesome!" stated Shroyer. She went on to say, "He set a goal to earn a 98% in the course, which I thought was a lofty goal for a middle school student when the majority of the students taking the class are seniors in high school. However, he worked hard and reworked assignments on which he didn't receive the best score he could. He was always thinking critically and studying for tests and quizzes. He earned over a 100 for the six weeks! He is very involved in the middle school as well, running cross country, playing golf, and taking English I and Math II. It was my pleasure to nominate Justin for the student of the six weeks."
Justin was given a certificate and a #VirtuallyAwesome t-shirt in front of his peers for being the UCVirtual Student of the Six Weeks. Congratulations Justin, we are very proud of you!
Please follow our Twitter account @UCVirtualNC to stay informed about our program, get important updates, and to help celebrate our students and teachers.