UCVirtual Student Honorees
UCVirtual Student of the Six Weeks (1/8/18)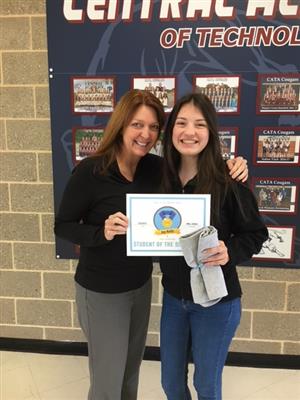 UCVirtual is proud to announce that CATA senior Joy Kelly is the UCVirtual Student of the Six Weeks! Joy is currently taking Personal Finance with instructor Kelley Gates. Mrs. Gates is the one who nominated Joy for this award.
Mrs. Gates had plenty of good things to say about Joy! "Joy is not only a wonderful student, but she is also a terrific young woman. She is my only student who has maintained a 100% average over the entire year. She always turns in her work on time, her assignments are thorough, and she goes above and beyond the requirements of the lesson," stated Gates. Gates said her work is not only dynamic in the classroom but that she is also involved in her community, "Outside of class, she volunteers in her community. She is a smart, delightful student who is a true 'joy' to have in class."
Joy was given a certificate and a #VirtuallyAwesome t-shirt in front of her peers for being the UCVirtual Student of the Six Weeks. Congratulations Joy, we are very proud of all your hard work!
Please follow our Twitter account @UCVirtualNC to stay informed about our program, get important updates, and to help celebrate our students and teachers.