UCVirtual Student Honorees
UCVirtual Student of the Six Weeks (2/16/18)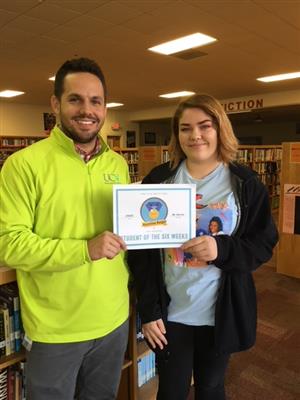 UCVirtual is excited to announce that Madeline Bolger, a 10th grader at Sun Valley High School, is the #VirtuallyAwesome Student of the Six Weeks! Madeline was nominated by her Global Awareness teacher, Mr. Andrew Starnes.
Mr. Starnes was very impressed by her work ethic. "Madeline was very reserved at the beginning of the semester. She had completed two honors assignments before she realized she had not signed up for honors. After grading her work I realized that she could complete the honors work if she pushed herself. She had never taken honors classes before. I urged her to push herself and told her I thought she could do it. Madeline decided to challenge herself and continue with the honors section. Through hard work and determination Madeline finished the course strong and earned an A in Global Awareness. I am very proud of her! Madeline deserves this award above all of my other students," stated Mr. Starnes.
Madeline was given a certificate and a #VirtuallyAwesome t-shirt in front of her peers for being the UCVirtual Student of the Six Weeks. Madeline demonstrates what teachers know about their students, with hard work you can do anything! Congratulations Madeline, we are very proud of you!
Please follow our Twitter account @UCVirtualNC to stay informed about our program,
get important updates, and to help celebrate our students and teachers.