UCVirtual Student Honorees
UCVirtual Student of the Six Weeks 5/16/19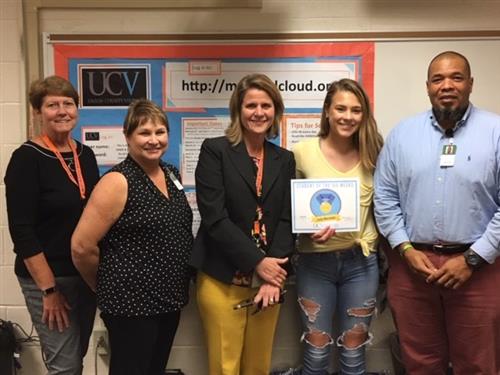 UCVirtual is excited to share the news that Julia Morneau is the #VirtuallyAwesome Student of the Six Weeks. Julia currently attends Marvin Ridge High School and is getting ready to graduate this June. Julia is receiving this recognition for her hard work in her Honors Earth and Environmental Science class. She was nominated by her teacher, Mr. Sebastian Byers.
Mr. Byers had nothing but wonderful things to say about Julia in his nomination. "Julia's classwork is a show stopper. I am not kidding when I say this young ladies presentations are some of the most polished, detailed, and interesting work I have seen as a teacher and student," stated Byers. Byers also included this in his recommendation, "Julia recently shared her foundation work to help students who are suffering from mental health issues. This is her foundation website .https://www.littlemindsct.com/. Amazing student who is giving back to her community and I predict will be someone we will be reading about in a few years if not sooner."
Julia was presented with a certificate and a #VirtuallyAwesome t-shirt in front of her peers in the E-Learning Lab at Marvin Ridge High School on May 15th, 2019. Pictured above from left to right are Sherry Killion, Lab Facilitator, Brenda Drye, E-Learning Administrator, Donna Cook, principal of Marvin Ridge, Julia Morneau, and UCVirtual teacher Sebastian Byers.
Congratulations Julia!
Please follow our Twitter account @UCVirtualNC to stay informed about our program,
get important updates, and to help celebrate our students and teachers.