UCVirtual Student Honorees
UCVirtual Student of the Year 2018- 2019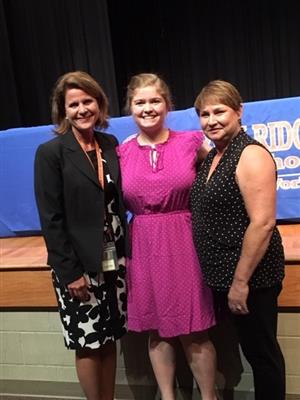 Each year Union County Virtual selects one student as the UCVirtual Student of the Year. For the 2018-2019 school year, we are pleased to announce that sophomore Sarah Motteler of Marvin Ridge High School will receive this honor! Sarah was nominated by her UCVirtual AP Environmental Science teacher, Mr. Sebastian Byers.
UCVirtual has students at 17 different Union County Public Schools. Sarah was selected as the UCVirtual Student of the Year out of students from all these schools! UCVirtual teachers were asked to nominate one student to be recognized as the UCV Student of the Year. In order to be nominated, students had to show a commitment to academic achievement, excellence in blended learning and outstanding personal character. Nominations were then narrowed down and voted on by the E-Learning team.
Mr. Byers had this to say about Sarah in his nomination,
"Sarah has been an exceptional student in AP Environmental Science and her school community. Her course work has been consistently impeccable and is often reference/model assignment worthy. Sarah has also been very pleasant to work with in one to one sessions. She is active in DECA, won Battle of the Books, and is involved in other school related activities. She is a student that I look forward to seeing and working with when I am at Marvin Ridge. Her parents also are quick to send notes of thank you and appreciation for the work with Sarah. I wish I had more students like Sarah."
Brenda Drye, E-Learning Administrator, presented Sarah with her award at the Awards Ceremony held at Marvin Ridge High School on May 29th, 2019.
Congratulations to Sarah Motteler on being the 2019 UCVirtual Student of the Year!
Please follow our Twitter account @UCVirtualNC to stay informed about our program,
get important updates, and to help celebrate our students and teachers.