UCVirtual Student Honorees
UCVirtual Student of the Six Weeks October 23, 2019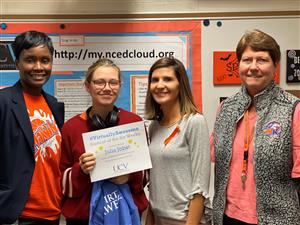 Union County Virtual is excited to share that Julia Jobst is the #VirtuallyAwesome Student of the Six Weeks! Julia is a senior this year at Marvin Ridge High School. She was nominated for this honor by her Multicultural Women's Studies teacher, Mrs. Candace Starnes.
Mrs. Starnes had no hesitation went it came to nominating Julia for this award. "Julia is an exchange student from Germany that has not only started her Senior year in a new country, but is also doing an outstanding job in online learning! I actually could not believe she was new to UCVirtual courses let alone our country! Julia not only has excellent time management and communication skills, but she approaches every assignment in our Multicultural Women's Studies course with detailed analysis and reflection!"
Julia was presented with a certificate and a #VirtuallyAwesome t-shirt in front of her peers in the E-Learning Lab at Marvin Ridge High School on October 23rd, 2019. There to help celebrate her achievements were Ms. Peters, her Guidance Counselor, Mrs. Starnes her UCVirtual teacher, and Ms. Killion her Lab Facilitator. Congratulations Julia, we are all very proud of you and your accomplishments!
Please follow our Twitter account @UCVirtualNC to stay informed about our program,
get important updates, and to help celebrate our students and teachers.