UCVirtual Student Honorees
UCVirtual Students of the First Six Weeks 3/1/21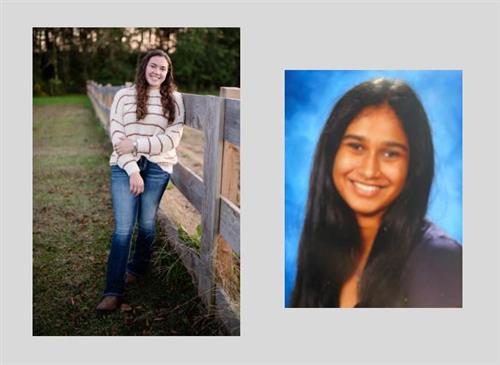 Union County Virtual is proud to announce our #VirtuallyAwesome Students for the first six weeks grading period. Summer Coble of Piedmont High School and Charvi Kavadekar of CATA are this six weeks #VirtuallyAwesome students!
Summer Coble is a 10th grader at Piedmont High School. She was nominated by her UCVirtual Business Law teacher, Ms. Kelley Gates. Ms. Gates had this to say about Summer, "Summer is an absolutely amazing student. As a 10th grader, Summer was my only student to earn 100% during the first grading period in Business Law. She never had a late or missing assignment and her work was far superior to most of her peers. I have only had a handful of students maintain a grade of 100% in Business Law over the past 4 years, and they have been seniors. As a sophomore, I'm blown away by her maturity and ability to grasp intellectual legal concepts. She is deserving of this award!" Summer was excited to hear she was receiving this honor and wanted everyone to know, "The class is very enjoyable, interesting, and full of information that is useful in the real world. Ms. Gates is outstanding and the feedback she provides is extremely helpful in the understanding of the class."
Charvi Kavadekar is an 11th grader at CATA, Central Academy of Technology and Arts. She was nominated for this award by her Advanced Placement Environmental Science teacher, Mrs. Donna Irvin. "Charvi pours herself into each assignment. Her positive attitude and quick wit shine through in her responses and presentations. She is always willing to engage during class meetings and shares her thoughts. She even included some cheesy jokes in her voice presentation, which made grading fun," stated Mrs. Irvin. Chavri was pleased to hear about this recognition and said, "The class is insightful and eye-opening. It gave me a better understanding about how humans impact the environment and how we can make a change. In Mrs. Irvin's class, I have gotten to engage and learn so much!"
UCVirtual is so proud to celebrate Summer and Chavri for their hard work, dedication to their studies, and positive attitudes! Each student received a #VirtuallyAwesome Certificate and UCVirtual #VirtuallyAwesome t-shirt to recognize them as outstanding students. We are extremely proud to honor these students and their achievements, they are truly #VirtuallyAwesome!
Please follow our Twitter account @UCVirtualNC to stay informed about our program,
get important updates, and to help celebrate our students and teachers.