UCVirtual Student Honorees
UCVirtual Student of the Second Six Weeks, April 21, 2021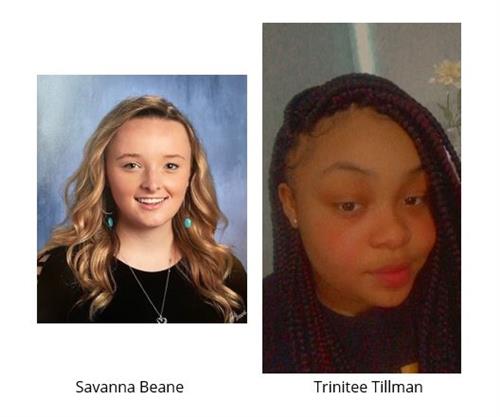 UCVirtual is proud to announce we have two amazing students that are the #VirtuallyAwesome Students of the Six Weeks! Join us in celebrating 11th grader Savanna Beane at Piedmont High School and 9th grade Trinitee Tillman at Forest Hills High School, we are so proud of them!
UCVirtual courses are taken by students all over the county. In order to be a #VirtuallyAwesome Student of the SIx Weeks, students have to be nominated by their teacher. Savanna is a junior at Piedmont High School and is taking Earth and Environmental Science taught by Mrs. Donna Irvin. Mrs. Irvin has this to say about Savanna, "Savanna is excellent at advocating for her own education. She attends all class meetings, never shy to ask a question. When she emails with questions or the need for clarification she is always polite and thankful. When an issue arises, she let's me know immediately. She occasionally asks for me to open assignments early so she can be free for a weekend competition. With so many students struggling to manage virtual learning, she has mastered the all important skill of effective communication."
Trinitee Tillman is a freshman at Forest Hills High School. She is taking a CTE course, Principle of Business, with her teacher, Ms. Kelley Gates. Ms. Gates was quick to nominate Trinitee for this honor. "Trinitee is not only an excellent student, but her time management skills are amazing. I would never have guessed she is only in 9th grade with the quality of work that she submits. She earned 99% the last 6 week grading period! She always completes her assignments and quizzes on the day that they open, and doesn't have a single late assignment for the entire semester. Trinitee wants to own a business in the future and has already started creating her business website. I have no doubt she will accomplish this or any goal she sets her mind to," stated Ms. Gates.
UCVirtual is excited to honor excellent students and their achievements. We are very happy to have the opportunity to recognize Savanna and Trinitee for their dedication to their studies and great job in class! Each student will receive a #VirtuallyAwesome certificate and a UCVirtual #VirtuallyAwesome t-shirt. These two ladies are #VirtuallyAwesome!
Please follow our Twitter account @UCVirtualNC to stay informed about our program,
get important updates, and to help celebrate our students and teachers.