UCVirtual Students of the First Six Weeks 2022-2023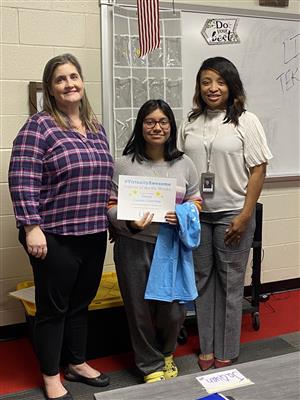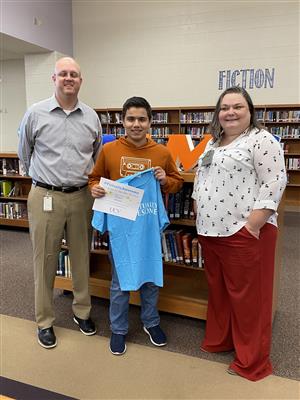 UCVirtual is excited to recognize our first #VirtuallyAwesome Students of the Six Weeks for the 2022-2023 school year. We are pleased to celebrate the accomplishments of Emely Quixtan-Guarchaj and Kasen Mehta!
Emely Quixtan-Guarchaj is a sophomore at Monroe High School. She is currently enrolled in UCV Math II Honors taught by Mrs. Chevy Coffey. Mrs. Coffey had this to say about Emely, "Emely demonstrated the true definition of perseverance and determination. She began the semester with technical difficulties but was able to make a total turnaround and has become very successful in our course. She was able to complete all her assignments and finished the six weeks strong! She has improved tremendously, and I admire her efforts to want to do well. She is a great student!"
Kasen Mehta is a senior at Marvin Ridge High School. He is currently taking UCV Global Awareness Honors, taught by Ms. Marsha Teal. Ms. Teal was eager to nominate Kasen. "Kasen is a dedicated student. He advocates for his own learning and is always eager to learn more. Kasen is great at asking questions for clarification when needed and will comment on feedback from me as well as announcements. He knows the meaning of effort, responsibility, and integrity, which will take him far in life!" stated Ms. Teal.
Emely and Kasen both received a #VirtuallyAwesome Certificate and UCVirtual #VirtuallyAwesome t-shirt to recognize them as outstanding students! We are extremely proud to honor these students and their achievements, they are #VirtuallyAwesome!
Image 1- pictured from left to right, Ms. Shannon Batchelor, Principal of Monroe High, Emely Quixtan-Guarchaj, Mrs. Chevy Coffey, UCVirtual Math Teacher.
Image 2- pictured from left to right, Mr. Michael Murray, Assistant Principal of Marvin RIdge High, Kasen Mehta, Ms. Marsh Teal, UCV Social Studies Teacher.
Please follow our Twitter account @UCVirtualNC to stay informed about our program,
get important updates, and to help celebrate our students and teachers.