UCVirtual Students of the Six Weeks T2, December 2022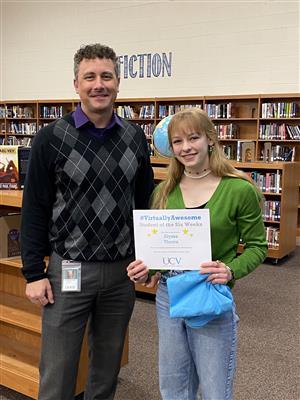 UCVirtual is proud to celebrate Alyssa Thoms and Mathias Strother for being the #VirtaullyAwesome Students of the Six Weeks! Each grading period, UCVirtual teachers nominate students they feel are deserving of recognition for their hard work and accomplishments in and out of the classroom.
Alyssa Thoms is currently an eleventh grader at Marvin Ridge High School. She is taking UCVirtual Honors English III taught by Mrs. Allison Sweeney. Mrs. Sweeney stated, "Alyssa is one of the brightest young minds I have had the pleasure to teach. Her ability to comprehend and discuss complex texts is inspiring. She truly stands out for her work ethic, dedication, and motivation to always do her best. She is a great addition to our class and deserves to be recognized as the UCVirtual Student of the Six Weeks!"
Mathias Strother is a graduating senior at Cuthbertson High School. Mathias is currently taking UCV Honors Psychology/Sociology class taught by Mrs. Candace Starnes. "Mathias is such a great student to have in Psychology/Sociology! He submits every assignment with detail and careful reflection. He adds a lot to class discussion forums by detailing his perspectives and respectfully responding to his classmates to help facilitate discussion," said Mrs. Starnes.
Alyssa and Mathias were both recognized in their Learning Labs in front of their peers. They each received a #VirtuallyAwesome Certificate and a UCVirtual #VirtuallyAwesome t-shirt. We are extremely proud to honor these students and celebrate what great people they are, they are truly #VirtuallyAwesome!
Please follow our Twitter account @UCVirtualNC to stay informed about our program,
get important updates, and to help celebrate our students and teachers.