UCVirtual Student of the Six Weeks, T3 February 13, 2023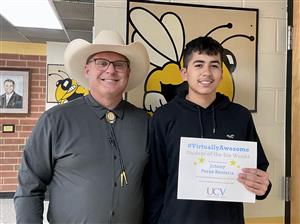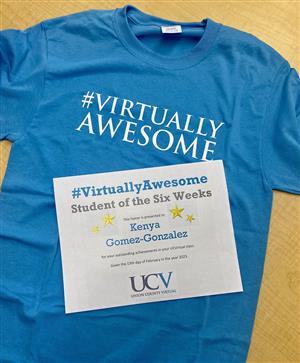 We are very excited to celebrate the UCVirtual Students of the Six Weeks for T3. Each grading period, UCVirtual teachers nominate students they feel are deserving of recognition for their hard work and accomplishments in and out of the classroom. The #VirtuallyAwesome students of the Six Weeks are Johnny Perez-Renteria and Kenya Gomez-Gonzalez!
Johnny Perez-Renteria is an eleventh grader at Forest Hills High School. First semester he was enrolled in UCVirtual's Leadership Exploration class that was taught by Mrs. Donna Irvin. "Johnny is a quiet, hard-working student who excels in the online environment with thoughtful reflections and top-quality, creative work. When working with him face to face, he digs deep in his responses to make personal connections to the lessons. He will make a great leader," shared Mrs. Irvin. She was very proud to recognize Johnny's achievements.
Kenya Gomez-Gonzalez is a senior at Monroe High School. First semester she was enrolled in UCVirtual's Success 2.0 course being taught by Allison Sweeney. "It is with great pleasure that I write this recommendation for Kenya for UCVirtual Student of the 6 Weeks. Kenya is self-motivated, self-disciplined, communicative, committed, and an analytical student. Her work ethic goes above and beyond and she is an amazing addition to our class this semester!" stated Mrs. Sweeney.
Kenya and Johnny were both recognized with a #VirtuallyAwesome Certificate and a UCVirtual #VirtuallyAwesome t-shirt. We are extremely proud to honor these two students and celebrate their achievements. They are truly #VirtuallyAwesome!
Please follow our Twitter account @UCVirtualNC to stay informed about our program,
get important updates, and to help celebrate our students and teachers.